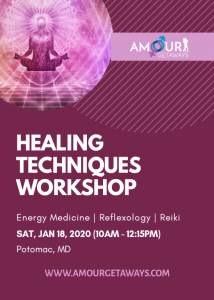 We are all busy people, and often we do not take enough time and/or know how to refresh, ground, and relax ourselves. This affects our relationships—with ourselves, our partners, and our children/family.
During this fun, interactive workshop, Rachel Kaufman will teach about and demonstrate the "why" and "how" of three healing techniques/modalities that will help us relax, heal, and bond with our partner.
This is a fun, participatory class–you will be instructed on each technique and then will pair up and practice on each other. At home, you will be able to practice your new skills on yourself, your spouse/partner, and kids! No prior knowledge needed; all levels welcome.
Who:  Couples
When:   Saturday, January 18, 2020
Time:  10am – 12:15pm
Where:  Potomac, MD
Related Reads
What do couples have to say about this workshop?
Healing benefits of Energy Medicine, Reflexology, and Reiki.
1 on 1 Couples Healing Technique Session for  Amour Getaways Clients
Become an Amour Getaways Member Today