Are you ready to satisfy your wanderlust and explore the world's wonders? At Amour Getaways, we're passionate about bringing your travel dreams to life. Our mission is simple: to connect you with extraordinary vacation packages that open the door to breathtaking destinations around the globe.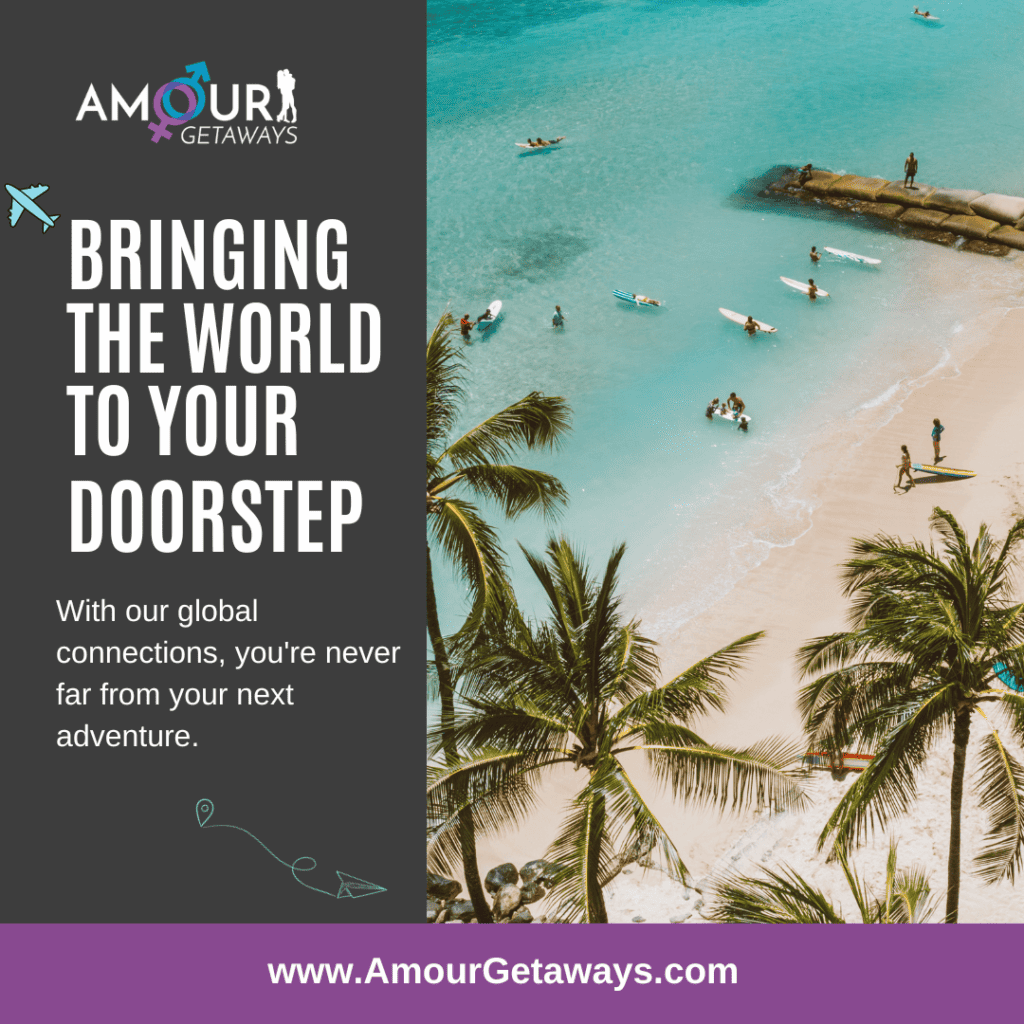 🌍 Discover Diverse Cultures: From the bustling streets of Asia to the enchanting landscapes of Europe, we offer a range of packages designed to immerse you in diverse cultures, traditions, and experiences. Whether you're a solo traveler, a couple seeking a romantic getaway, or a group of friends eager to explore, our vacation options cater to all.
✈️ Stress-Free Booking: Say goodbye to travel planning hassles. With Amour Getaways, your next adventure is just a few clicks away. Our streamlined booking process ensures a hassle-free experience, allowing you to focus on the excitement of your upcoming journey.
🗺️ Worldwide Connections: We've cultivated global connections to provide you with exclusive access to the most sought-after destinations. Whether you're envisioning a tropical escape, an urban exploration, or an off-the-beaten-path adventure, our network ensures you can have it all.
🏨 Luxury and Comfort: Enjoy top-notch accommodations and luxurious amenities that guarantee a comfortable and unforgettable stay. We handpick our partners to ensure you experience the best in hospitality.
🤝 Personalized Service: At Amour Getaways, you're not just another traveler; you're our valued guest. Our team is dedicated to tailoring your experience to your desires, offering personalized itineraries and expert recommendations.
Ready to explore the world's wonders? Let's embark on your next adventure together. With Amour Getaways, the world is at your doorstep, and your travel dreams are within reach. Contact us today to start your journey towards unforgettable experiences and cherished memories. Your adventure awaits! 🌍✈️
Love what you've read on our blog? Share your thoughts with us on Instagram! Click here to connect, engage, and join the conversation, We can't wait to hear your insights and see your adventures. Let's stay connected
Discover More
Click Here for Upcoming Events