Happy Holidays from the Amour Getaways family.  As a thank you for supporting all of the wonderful new adventures and experiences that this year has brought our way, we would love to offer you a 30% discount on any of our our VIP Membership categories.  This offer expires on January 31st, 2020.  Please use the Promo Code Thank You or use the Buy Now link below to claim your discount.  Feel free to share this code with other like-minded couples who would love to experience Amour Getaways events and trips.  

Our Spring Getaways will be here before you know it.  Please start paying your deposits ASAP for the upcoming Clothing Optional Cabin Getaway to Berkeley Springs, WV and to Caliente Resort in Land O Lakes, FL; you do not want to wait until the last minute.  Let us know you are interested in joining us!!
Amour Getaways Featured on Sisters of Sexuality Radio Show
Join your host Taylor Sparks as she has a very open discussion with Mr. and Mrs. Amour about how they entered into the swinger lifestyle very early on in their relationship and how that has happiliy continued for more than 18 years. Amour Getaways travel came into fruitition because of their love of travel and recognizing that there were not any couples only or lifestyle travel agencies specializing and focusing on couples of color. Listen in on how Mr. and Mrs. Amur talks about how they design both romantic and lifestyle vacations for sexy coupels of all persuasions but with a special focus on couples of color and the way they like to vacation.
The Black and Kinky Podcast
The Belle and the Bomber have recorded their final episode of the season and are taking a short break while they rebrand their podcast. Make sure to listen to their final episode, send them an email with your questions, messages of support and stay tuned for lots of new and exciting things that they have in store for you. You do not want to miss out.
In the meantime, check out what the Bomber has to say about how couples express themselves about who their personal racial preferences are when in comes to the lifestyle in his latest blog. We have all had the task of filling out the "What we are looking for" section of all lifestyle platforms.
"We don't play with Black couples… but we will hang out with them." I will never forget the day I was browsing on a swinger website, and I came across a couple's profile that had that line in their "what we are looking for" section. Click here to continue reading The Bomber's 5 Principles of Expressing Racial Preferences in the Lifestyle.
Naughty in N'awlins

Prices will increase in 2020. Book the conference NOW if you will be joining Amour Getaways this year. Please send us a message if you want to speak with us directly and gain more information about what to expect. We highly recommend attending this conference not only for the parties, playrooms and being in New Orleans with so many like-minded couples, but also because of the amount of quality sex-positive and couples oriented workshops, seminars and classes that are held. You DO NOT want to wait! Book TODAY.
HAPPY HOLIDAYS FROM NINA AND KENNY!!


Membership and Upcoming Events
---
Amour Getaways VIP Membership
Renew or Activate Your Amour Getaways VIP Membership for extra perks! Join Our Tribe!
---
Healing Techniques Workshop
Energy Medicine | Reflexology | Reiki
Saturday Jan 18 2020 10am-12pm Buy Tickets
---
Edibles | Bud | Positive Vibes
CannaSwinger Social Club
Sunday Jan 19 2020 6pm-10pm Buy Tickets
---
House Party Remix
Pajama Jammy Jam
Saturday Jan 25 2020 8:30pm-2am Buy Tickets
---
Black n Kinky Podcast
Created by a Black married professional couple that has embraced the sexy swinger lifestyle.
---
Clothing Optional Lifestyle Cabin Getaway
Adventure Awaits
Friday Feb 28 2020 , 4:30pm – Sunday, Mar 01 2020 , 4:30pm Buy Tickets
---
Caliente Resort Birthday Bash
Thursday Apr 30 2020 , 8am – Sunday, May 03 2020 , 10pm Buy Tickets
---
Naughty in N'awlins
World Famous New Orleans Swinger Lifestyle Hotel Takeover
Wednesday Jul 08 2020 , 10am – Sunday, Jul 12 2020 , 10am Buy Tickets
---
Norfolk Caribbean Festival
Join the Ethnic Essentials Mas Band
Saturday Aug 08 2020 7am-11:30pm Book Now
Naughty in N'awlins
World Famous New Orleans Swinger Lifestyle Hotel Takeover
Wednesday, July 24, 2019 through Sunday, July 28, 2019
Naughty n N'awlins is the largest annual lifestyle convention for couples, in the world. With over 1,000 couples, this event takes over one of the French Quarter's biggest hotels; it takes over Bourbon St. Open-minded couples will have the opportunity to attend a wide variety of seminars and Bourbon St. parties by day and themed Balls by night. By attending some of the classes, couples will create long lasting memories that will make you a better lover, partner, and individual. These memories will come equipped with new skills and a boost in confidence that couples will continue to cherish and practice well beyond those moments.
If you would like to participate, you have to register to get into the hotel or any of the over 30 private parties during the convention. You can't book individual nights or get access to our seminars or private parties. It is a 3 or 4 night, full convention package, with so much entertainment, parties and fun, you will want to be there for the entire event.
The Main hotel, the Crowne Plaza Hotel, always sells out way in advance.  Book Now 
Theme Nights
Every night has a special sexy "Theme Night" where you'll find erotic costumes, people body painted, sexy club wear, lingerie and of course, our famous Mardi Gras Masquerade Ball.  This year's themes will be announced soon.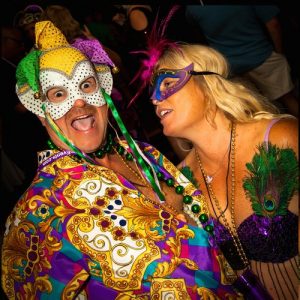 Bourbon St Parties
We take over most of Bourbon St's biggest clubs with Private Parties from noon till 6 pm every day.  Join us at the Beach, Razoo, The Swamp, Bourbon Cowboy, the Famous Door, Fat Catz, Patrick's Wine Bar, Spirits, Krazy Korner and much more. You need to be registered to get in.  Click Here for more information.
Annual Lifestyle Awards
 Find out which clubs are the best in each region as well as the best "Club of the Year" by attending the Annual Lifestyle Awards (the lifestyle "Oscars").  There will also be prizes for best website, convention, cruises, educators and entertainers. This is a great show and one you should check out while at NIN.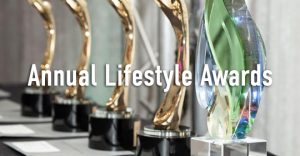 Classes & Workshops
Naughty n N'awlins offers the largest lifestyle education program in the world.  There are classes, seminars and workshops that you can attend every day.  We offer free classes on Tantra, communication skills, BDSM, photography, massage and much more. There are also optional intensive workshops for an extra fee.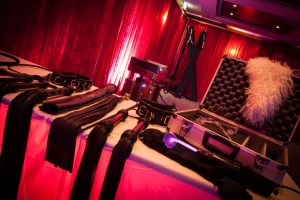 What are you waiting for?
You have learned all about the great things that Naughty n Nawlins has to offer.  Contact your friends and join us in July!!  To view a sample of last year's schedule, CLICK HERE.