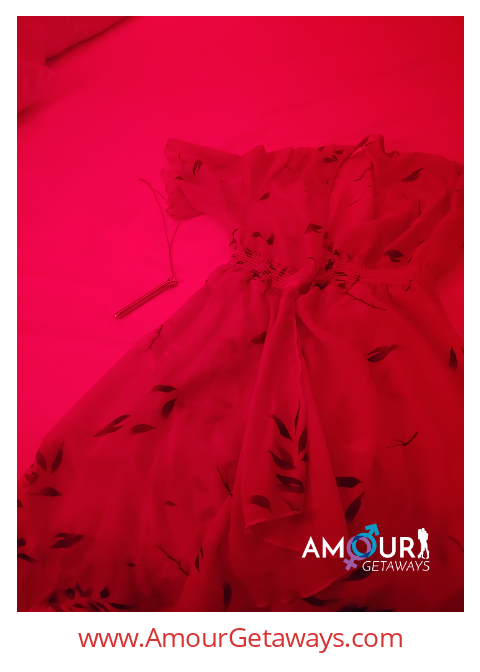 Are you getting ready for the ultimate Valentine's Day with your significant other? The Amour Getaways tribe would like to remind you that details matter. After you spend a romantic day with your sweetie, imagine stepping into a room that caters to all of your senses. No really, imagine that alluring ambiance!
Maybe you had a long day of work, family responsibilities, or you are just tired of being a BOSS. Imagine unwinding from your day and stepping into a space that is mysterious, yet enticing. Imagine the mood enhancing lights caressing your lover's soft skin as your desire increases and the sensuous music dances around you. Imagine. Feel It.
Are you ready to set up the perfect ambiance for you and/or your significant other? Or are you getting ready to host a group of like-minded friends in the lifestyle? Any way that you decide to spend the evening, the Bomber from the Black and Kinky Lifestyle podcast has written a great article that can be applied to any kind of intimate situation!
Have you heard the lastest Black n Kinky podcast episode with the Belle and the Bomber? They describe some of the fun they had at our 1st Afro Caribbean Pool Party in Stafford, VA. CLICK HERE to listen.

Thank You to those of you who met with the Amour Getaways tribe in Laurel at our Hotel Social. We also still have space at the upcoming Cabin Getaway. You will not want to miss our bonus workshop on the art of Firting and Squirting with Sex Educator Marla Stewart of the Sex Down South Conference.

Did you know that you can create a free sexy profile on the Amour Getaways platform? Click Here for a sneak peak but remember, you must be an approved member to see Standard and VIP Member profiles. If you would like to check out all of the features of becomng a VIP Member, please enter the word Newsletter in the Promo Code area to recieve a free 2-week trial (Expires Sept. 30, 2019). If you like what you see and would like to offer this same opportunity to other like-minded friends, feel free to share the Promo Code through the end of the month.
Upcoming Events
Sat, Sep 14 Amour Getaways Hotel Social
Intimate Hotel Party for Amour Getaways Members Fri, Oct 04 Clothing Optional Lifestyle Cabin Getaway
Bonus Couples Flirting and Squirting Workshop by Sexuality Educator Marla Stewart

---
Amour Getaways Hotel Social
Intimate Hotel Party for Amour Getaways Members
Saturday Sep 14 7pm-2am
---
Clothing Optional Lifestyle Cabin Getaway
Bonus Couples Flirting and Squirting Workshop by Sexuality Educator Marla Stewart
Friday Oct 04 , 4:30pm – Sunday, Oct 06 , 4:30pmBuy Tickets Who's Going
The Bomber in the Black n Kinky Lifestyle Podcast
Real talk for the fellas out there. Consider the following scenario: You have an attractive woman in the playroom with you now. All the drinks, dancing, talking, flirting, touching, and kissing has led to this moment. Y'all kissing, you getting aroused, you feeling on her round booty while she is stroking your jump-off. She starts getting undressed. You start by going down on her and working your magic. Her moaning is telling you you are doing your thing. So far so good.

But, once you get up to give her the business something odd happens. Perhaps it is a call on your phone, an odd look she gives your penis when you pull your pants down, a noise from the next bed, a chick that is moaning much louder than the one you are messing with bringing with it a thought of insecurity. What it is, does not matter, but whatever it is, it has taken you out of the moment.

Your erection goes from 100 to 80%. "Oh no" wait a minute, no you can't go soft right now, *down to 75%*. She asks you if there is anything wrong. You lie and say no. *Down to 70%*. "Holy fuck" it is going down and down quick. You try to get yourself together, but the thought of failing has now implanted itself in your brain and is multiplying. "Nooo not now!" *Down to 65%*. Now the familiar feeling of panic has gripped you and you can feel beads of sweat forming on your head.

You struggle to find a condom quickly, because you know if you don't get it on now, you are screwed. *60%*. Where the hell did you put your play bag. Oh there it is. You are now having difficulty opening the wrapper. Dam, why did this chick have to cream on your fingers so much. Oh snap she is totally ready for you and waiting. OMG! She is waiting, she is waiting for that dick and you are failing. Your hands shake as you try to get the condom on. Fuck! You are now at 55%. You can do it though, the condom reluctantly slides on like it knows it did not sign up for this bullsh*t.

You open those legs to give it to her. If you can only get it in and get your rhythm going, everything will be alright. But you try to push it in, it goes in for a little while, she moans. Man she must be faking it, this is not me right now. *50%* . It bends and slips out. Now she knows. *45%*. She backs up and gets you on your back. She is frustrated. No, she is going to give you head. That's good. She takes the condom off to give you head. You are trying to enjoy it, but you just can't shake the feeling that it is a pitty blow job. A blow job that is necessary but not wanted. Now, even as it is in her mouth you are falling and rapidly approaching 30%…20….10. Now there is no controlling it. Despite the intensity in which her head is bobbing up and down on your dick, you are not responding. Now there is no denying it. The lips are among the most sensitive parts of the body and your dick is ratting on you like it got caught up with the feds. It is saying to her that you failed, you are a loser, you blew it…
The lifestyle has shown me that being able to maintain an erection is a struggle that many men face. Especially when 1) they are in environments where they may be watched and are plagued by the pressures to perform like porn stars in front of an adoring crowd, 2) they might have one shot to impress a new partner with their sexual prowess and 3) they often have to put on a condom which, although necessary, can be Kryptonite to your average stiffy. Erectile dysfunction is a real problem among many men, and often it can have some reasonably clear physiological causes. But this post is not for those men. I am speaking to all the men out there that got an unwelcome visit from the flaccid fairy during those critical moments in the bedroom. This post is for those who don't know what to do when, out of nowhere, IT GOES SOFT.
The internet is full of advice about what to do about ED, and honestly, none of it was helpful for me. You hear the same old tale of eating right, exercising, losing weight, reducing your alcohol intake blah blah mothaf*cking blah. I know plenty of men that are very much in shape, have not touched a drug in their lives, and they are still not immune to occasional break out of limpdicktitis. Not to say that these health habits are not important, but they are not the answer to everything. So I decided to close the gap and provide an honest set of tips and guidelines on how to deal with deadbeat erections with a habit of abandoning us when we need them most.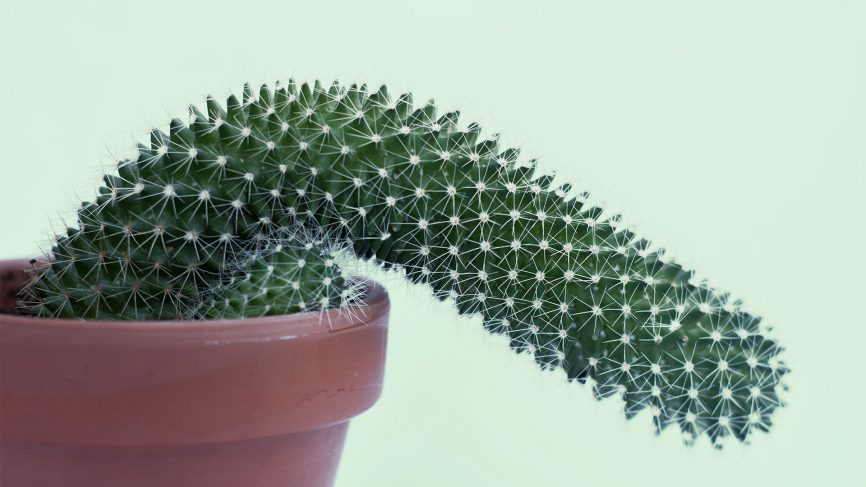 Your flaccid Johnson is not the enemy, erectile anxiety is, and it must be killed on sight. You must consider it as something outside of yourself and it must be discarded, marched into the woods, shot and buried 6 feet deep. Then you have to find it's family and friends and make an example out of them too! If you see it creeping up, your primary objective is to fight it back, trying to get hard is secondary and cannot happen in the presence of your enemy. Arousal and worrying about whether you will get hard tonight, can rarely exist in the same space.
Recognize that Hard d*ck dependency can be another form of sexual dysfunction. Do not chase after a hard dick and neglect your flaccid one. Both are important and are deserving of appreciation and attention. If it's not hard, pull other tricks out of your bag and focus on those. Through that focus, arousal is more likely to come naturally. Eat, finger, touch, caress, lick, massage and allow tension to build. Somebody got excited reading that one ;).  You will find that many of the sexiest experiences you can have does not always require you to "stick it in.
When your body says "no" it means "NO!": You can rarely force an erection so stop trying. It is like committing a sexual assault on yourself. Think about the last time you wacked it. *Likely within the last hour if you are a man reading this right now.* When you are sitting down and watching porn, count how many times you had to think yourself into getting hard. Arousal usually does not take a lot of thinking, although it can benefit from a bit of imagination.
Get comfortable with the situation and confident in your sexuality. This might be difficult when going soft at first, but there are things you can do to practice. Try meditating 5-10 minutes a day. Search for apps on mediation and there are also YouTube videos that provide some good guiding tips. These may help you build a habit of appreciating the NOW and being PRESENT. It also helps avoid negative thoughts (including those about your missing erection) from distracting you from the buffet of sexiness that might be before you. It may *and prepare yourself for this one* allow you to fully accept and embrace the possibility that, you may not be engaging in full penetrative sex at the moment. Might not be ideal, but it is better than walking with your head down, ruminating on your failures as the mandingo super fly sexual beast you were born to be, and annoying your partner with excuses and excessive claims about how "this usually doesn't happen.
Magic pills can be effective but dangerous, so do your research. There are plenty of supplements and drugs on the market that can give you the edge to turn your hank into a Hulk with plenty of stamina behind him. However, there are a few things to know about these methods. Supplements may not be FDA approved and may carry some health risks. But they can be very effective at making it easy to get stiffer and long-lasting erections and can remain active in your system for a few days. Some of the more popular brands include Rhino's, Horny goat weed, and Extenze. You can purchase these online or at just about any gas station.  Drugs like Viagra and Cialis have also been effective for men suffering from ED. Cialis has been rated better than Viagra, as it may last longer and give you more control over your erection. Don't even think about taking any of this stuff without consulting with a medical professional! You need to be alive to get it in, so be careful out there.
PEACE.
The Bomber!
For more tips from the Bomber and the Belle, check out The Black n Kinky Lifestyle Podcast
Are you interested in…
Joining the Amour Getaways Tribe?
Learning more about the swinger lifestyle?
Connecting with couples near you?
Joining locally sponsored events?
Become a Pre-Screened Amour Getaways Member today!
Our partner sites below offer a platform for anyone exploring their sexuality to connect with other like-minded individuals in a sex positive environment. They provide a place for swinger couples to meet and pursue other people of interest.
Want a free 90-day membership to Kasidie? Let us know in the contact section below.
Click on the links below to begin exploring new possibilities.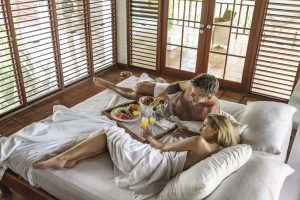 Image:  Couples Resorts
According to the US Travel Association, travel has a positive effect on relationships.  Traveling with your partner forces you to naturally spend more "alone" time together and you learn more about your partner.  You build trust in one another as you embark in new experiences which is crucial to keeping the spark alive.  This in turn will allow you to have better, more fulfilling sex lives.
Key research findings of couples who travel together report:
The preference of getaways over gifts
Sparks in romance
Better sex lives
More time for intimacy and sex
What are you waiting for?  Start creating memories and book your next getaway with Amour Getaways today!
The Black n Kinky Lifestyle Podcast was created by a Black married professional couple that has embraced the sexy swinger lifestyle. They use this podcast to share the unique perspectives of Black couples that is relatively absent from the broader discussion of non-monogamy. The information they share is aimed at helping other Black couples who are thinking about exploring non-monogamy or have already dared to traverse the swinger lifestyle and just want to listen to the steamy details of their adventures meeting couples, engaging in orgies, and attending the hottest swinger clubs in the country.  They talk about everything from the do's and don'ts of bringing others into your bedroom, transparent communication, and keeping things sexy in and out of the bedroom.
Related Links
Guest Bloggers:  The Belle and The Bomber
Naughty in N'awlins
World Famous New Orleans Swinger Lifestyle Hotel Takeover
Wednesday, July 24, 2019 through Sunday, July 28, 2019
Naughty n N'awlins is the largest annual lifestyle convention for couples, in the world. With over 1,000 couples, this event takes over one of the French Quarter's biggest hotels; it takes over Bourbon St. Open-minded couples will have the opportunity to attend a wide variety of seminars and Bourbon St. parties by day and themed Balls by night. By attending some of the classes, couples will create long lasting memories that will make you a better lover, partner, and individual. These memories will come equipped with new skills and a boost in confidence that couples will continue to cherish and practice well beyond those moments.
If you would like to participate, you have to register to get into the hotel or any of the over 30 private parties during the convention. You can't book individual nights or get access to our seminars or private parties. It is a 3 or 4 night, full convention package, with so much entertainment, parties and fun, you will want to be there for the entire event.
The Main hotel, the Crowne Plaza Hotel, always sells out way in advance.  Book Now 
Theme Nights
Every night has a special sexy "Theme Night" where you'll find erotic costumes, people body painted, sexy club wear, lingerie and of course, our famous Mardi Gras Masquerade Ball.  This year's themes will be announced soon.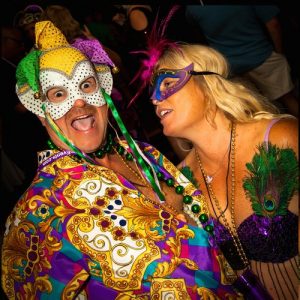 Bourbon St Parties
We take over most of Bourbon St's biggest clubs with Private Parties from noon till 6 pm every day.  Join us at the Beach, Razoo, The Swamp, Bourbon Cowboy, the Famous Door, Fat Catz, Patrick's Wine Bar, Spirits, Krazy Korner and much more. You need to be registered to get in.  Click Here for more information.
Annual Lifestyle Awards
 Find out which clubs are the best in each region as well as the best "Club of the Year" by attending the Annual Lifestyle Awards (the lifestyle "Oscars").  There will also be prizes for best website, convention, cruises, educators and entertainers. This is a great show and one you should check out while at NIN.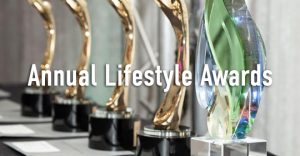 Classes & Workshops
Naughty n N'awlins offers the largest lifestyle education program in the world.  There are classes, seminars and workshops that you can attend every day.  We offer free classes on Tantra, communication skills, BDSM, photography, massage and much more. There are also optional intensive workshops for an extra fee.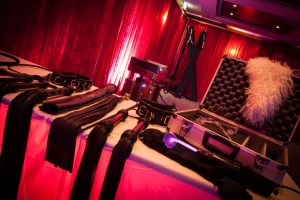 What are you waiting for?
You have learned all about the great things that Naughty n Nawlins has to offer.  Contact your friends and join us in July!!  To view a sample of last year's schedule, CLICK HERE.
*Scroll to the bottom for live interviews taken.
"The Amour Clothing Optional Cabin Getaway is an absolute blast for just about anyone in the lifestyle hoping for a sexy weekend getaway. From its isolated location in the woods, the gorgeous interior of the cabins, relaxing springs of Berkeley Springs and not to mention the sexy couples, this is a trip can be an awesome experience. The only thing you might not like about it , is its inevitable end, as you reluctantly plan your return to the reality of work, kids and all things basic and unsexy.
My wife and I attended the Amour Getaway Cabin Getaway during the summer of 2018 and were joined by about 10 other couples. We arrived at the Main Cabin on a Friday evening to a delicious Salmon dinner and bonus buffet of half naked couples. The cabin was gorgeous with 3 floors, and a sprawling deck. Mattresses covered the area in front of the fire place as some pretty good porn was playing. We had our introductions followed by a sexy ice breaker that got us all oiled up, touching, and well lots of play followed. That was a great evening. My wife and I stayed at a cabin with 3 other couples separate from the main cabin, which was just as nice, but had the addition of a sauna and hot tub. We ended up spending several other hours playing before going to bed that Friday.
That first night was magic, but the following day would be even better. We all had a great breakfast together at the main cabin, before taking a convoy to the bathhouse spa in Berkeley Springs. We split up into small groups to take a dip in baths which were hot but really relaxing. Once we got back to the cabin we spent most of the afternoon playing with reborn energy. That last night included a dinner with the group that got everybody talking and laughing at a local restaurant with a number of menu options. The wait staff was friendly and accommodating to our crowd. Once we were well fed we headed back to the cabin and there was no need for an ice breaker at that point. Playing, playing and more playing ensued and finished off the night chatting and looking at the stars.
Verdict: The getaway was one of the best experiences we had that summer. The crowd was really sexy and everyone seemed to have a good time. The space was really awesome and really fine to just relax in, when you are taking a break from playing and just want to admire the environment. There are also opportunities to hike on the wood trails and see some of the other gorgeous properties.
The hosts are very accommodating and made sure everyone was comfortable. They were also flexible with the crowd which is a major plus for events like this.
Soaking in the bathhouse was a new experience for my wife and I and was definitely an experience we will not forget. Be careful, it can get quite hot, so take some water when you can, and feel free to get out of the water if necessary.
This is a trip we would definitely take again, preferably in the colder months when a dip in hot springs or a hot tub will be pleasurable relief from frigid temperatures."
The Belle and the Bomber, 8/2018
Listen to their episodes on the podcast…
The Bomber and the Belle share their much anticipated experience at the sexy clothing optional cabin getaway weekend hosted by Amour Getaways. This week they invited some of the other guests as well as the hosts themselves to have an impromptu pillow session.
In this episode the Belle and the Bomber conclude their review of the Amour clothing optional sexy cabin getaway in Berkeley Springs, WV.
The Belle and the Bomber chat with the sexy Chloe and Jackson on this two part series on their experience in the lifestyle. This part will focus on their journey in the lifestyle while part 2 will focus on their experience at the getaway.
The Belle and the Bomber conclude their chat with the sexy Chloe and Jackson on this two part series on their experience in the lifestyle. This part will focus on the details of their first taste of Amour's clothing optional getaway.