The Belle and The Bomber from the Black n Kinky Podcast (Includes interviews with other couples)
T. Reed and Shon, Virginia 8/2018
E and J, Texas 8/2018
C and D, Ohio 4/2017
Trice and TJ, Ohio 1/2017
Fred and Kim, Virginia 3/2016
Naughty in N'awlins
World Famous New Orleans Swinger Lifestyle Hotel Takeover
Wednesday, July 24, 2019 through Sunday, July 28, 2019
Naughty n N'awlins is the largest annual lifestyle convention for couples, in the world. With over 1,000 couples, this event takes over one of the French Quarter's biggest hotels; it takes over Bourbon St. Open-minded couples will have the opportunity to attend a wide variety of seminars and Bourbon St. parties by day and themed Balls by night. By attending some of the classes, couples will create long lasting memories that will make you a better lover, partner, and individual. These memories will come equipped with new skills and a boost in confidence that couples will continue to cherish and practice well beyond those moments.
If you would like to participate, you have to register to get into the hotel or any of the over 30 private parties during the convention. You can't book individual nights or get access to our seminars or private parties. It is a 3 or 4 night, full convention package, with so much entertainment, parties and fun, you will want to be there for the entire event.
The Main hotel, the Crowne Plaza Hotel, always sells out way in advance.  Book Now 
Theme Nights
Every night has a special sexy "Theme Night" where you'll find erotic costumes, people body painted, sexy club wear, lingerie and of course, our famous Mardi Gras Masquerade Ball.  This year's themes will be announced soon.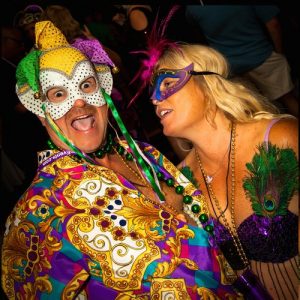 Bourbon St Parties
We take over most of Bourbon St's biggest clubs with Private Parties from noon till 6 pm every day.  Join us at the Beach, Razoo, The Swamp, Bourbon Cowboy, the Famous Door, Fat Catz, Patrick's Wine Bar, Spirits, Krazy Korner and much more. You need to be registered to get in.  Click Here for more information.
Annual Lifestyle Awards
 Find out which clubs are the best in each region as well as the best "Club of the Year" by attending the Annual Lifestyle Awards (the lifestyle "Oscars").  There will also be prizes for best website, convention, cruises, educators and entertainers. This is a great show and one you should check out while at NIN.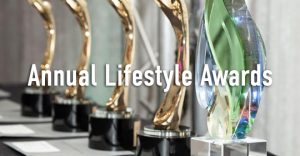 Classes & Workshops
Naughty n N'awlins offers the largest lifestyle education program in the world.  There are classes, seminars and workshops that you can attend every day.  We offer free classes on Tantra, communication skills, BDSM, photography, massage and much more. There are also optional intensive workshops for an extra fee.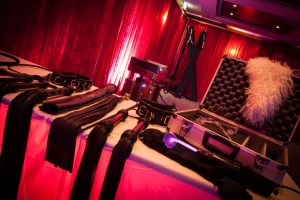 What are you waiting for?
You have learned all about the great things that Naughty n Nawlins has to offer.  Contact your friends and join us in July!!  To view a sample of last year's schedule, CLICK HERE.
*Scroll to the bottom for live interviews taken.
"The Amour Clothing Optional Cabin Getaway is an absolute blast for just about anyone in the lifestyle hoping for a sexy weekend getaway. From its isolated location in the woods, the gorgeous interior of the cabins, relaxing springs of Berkeley Springs and not to mention the sexy couples, this is a trip can be an awesome experience. The only thing you might not like about it , is its inevitable end, as you reluctantly plan your return to the reality of work, kids and all things basic and unsexy.
My wife and I attended the Amour Getaway Cabin Getaway during the summer of 2018 and were joined by about 10 other couples. We arrived at the Main Cabin on a Friday evening to a delicious Salmon dinner and bonus buffet of half naked couples. The cabin was gorgeous with 3 floors, and a sprawling deck. Mattresses covered the area in front of the fire place as some pretty good porn was playing. We had our introductions followed by a sexy ice breaker that got us all oiled up, touching, and well lots of play followed. That was a great evening. My wife and I stayed at a cabin with 3 other couples separate from the main cabin, which was just as nice, but had the addition of a sauna and hot tub. We ended up spending several other hours playing before going to bed that Friday.
That first night was magic, but the following day would be even better. We all had a great breakfast together at the main cabin, before taking a convoy to the bathhouse spa in Berkeley Springs. We split up into small groups to take a dip in baths which were hot but really relaxing. Once we got back to the cabin we spent most of the afternoon playing with reborn energy. That last night included a dinner with the group that got everybody talking and laughing at a local restaurant with a number of menu options. The wait staff was friendly and accommodating to our crowd. Once we were well fed we headed back to the cabin and there was no need for an ice breaker at that point. Playing, playing and more playing ensued and finished off the night chatting and looking at the stars.
Verdict: The getaway was one of the best experiences we had that summer. The crowd was really sexy and everyone seemed to have a good time. The space was really awesome and really fine to just relax in, when you are taking a break from playing and just want to admire the environment. There are also opportunities to hike on the wood trails and see some of the other gorgeous properties.
The hosts are very accommodating and made sure everyone was comfortable. They were also flexible with the crowd which is a major plus for events like this.
Soaking in the bathhouse was a new experience for my wife and I and was definitely an experience we will not forget. Be careful, it can get quite hot, so take some water when you can, and feel free to get out of the water if necessary.
This is a trip we would definitely take again, preferably in the colder months when a dip in hot springs or a hot tub will be pleasurable relief from frigid temperatures."
The Belle and the Bomber, 8/2018
Listen to their episodes on the podcast…
The Bomber and the Belle share their much anticipated experience at the sexy clothing optional cabin getaway weekend hosted by Amour Getaways. This week they invited some of the other guests as well as the hosts themselves to have an impromptu pillow session.
In this episode the Belle and the Bomber conclude their review of the Amour clothing optional sexy cabin getaway in Berkeley Springs, WV.
The Belle and the Bomber chat with the sexy Chloe and Jackson on this two part series on their experience in the lifestyle. This part will focus on their journey in the lifestyle while part 2 will focus on their experience at the getaway.
The Belle and the Bomber conclude their chat with the sexy Chloe and Jackson on this two part series on their experience in the lifestyle. This part will focus on the details of their first taste of Amour's clothing optional getaway.