Are you feeling a little adventurous or wish to spice up your romantic vacation?  Do you and your significant other wish to push the boundaries of sexual pleasure and freedom?  Amour Getaways offers a discrete way for curious professional couples to feel comfortable in exploring nontraditional ways of travel.
In addition to full take-over vacation options available such as Lifestyle cruises and resorts, Amour Getaways offers customized vacations for individual couples and/or small groups.
The benefits typically include but are not limited to:
Establishing lifelong friendships
Pleasurable experiences
Strengthen good marriages and relationships
Fantasies become reality
Build self-confidence, shed inhibitions and increase communication.
No matter how adventurous or tame your exotic vacation will be, you can expect privacy in a sexy and safe environment.
Resorts
For couples who would love to explore an alternative lifestyle full of fun activities that can lead to friskier night-time activities, adult-only, clothing optional/nudist or sex-charged swinger resorts can offer a relaxing way to explore a sexier side of travel.
Caliente Resorts in Land O' Lakes, FL
Ideal for the seasoned naturist and first-time nudist alike, this resort offers couples clean, spacious and well-maintained accommodations as well as a quarter acre tropical pool and 33,000 square foot clubhouse.
In addition to the lagoon pool and invigorating grotto waterfall, you will find two hot tubs and six additional pools for volleyball, socializing and relaxing. Don't forget to inquire about their themed parties.
Couples Resorts in Jamaica
With four Jamaican seaside resorts to choose from– two in Ocho Rios and two in Negril, Couples is the Caribbean's best all-inclusive, couples-only luxury resorts.  Experience everything except regrets!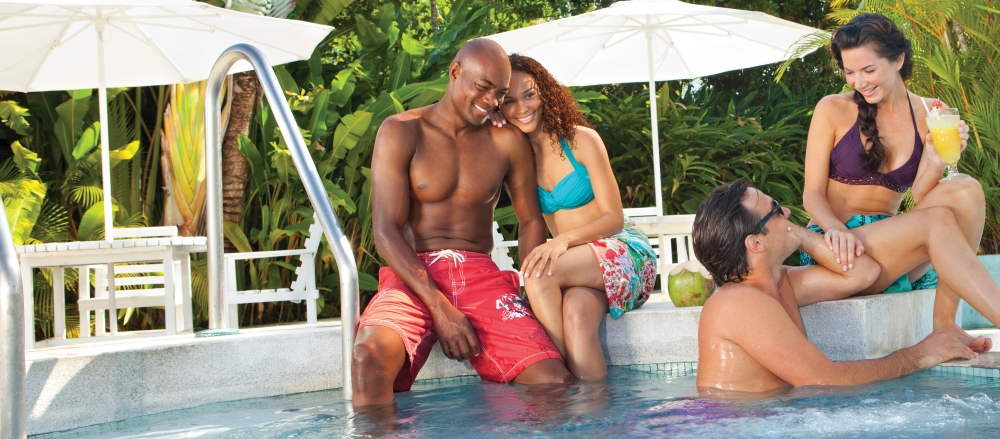 Couples Tower Isle features its own private island, farm to table cuisine and chic island style.  With eight exclusive Oasis Spa Villas, guests can enjoy unlimited spa treatments.  For the more adventurous, visit the cove to experience tropical bliss in the nude.
Known as the "Jewel of Jamaica," Couples Sans Souci in Ocho Rios is a beachfront island that sits in a lush natural setting filled with waterfalls, grottos, beaches, lakes, and jungles.  A pool that goes right up to the nude beach completes the perfect getaway for couples seeking a quiet vacation.
Couples Negril is located on 18 acres on the island's west coast.  For couples looking for a very intimate setting that is lively and low-key, this oceanfront oasis has fresh, modern guest rooms, a tree house spa and offers a variety of guest mix and mingling get-togethers.  A nude pool and jacuzzi completes a couple's checklist of things to experience in the tropics.
Couples Swept Away in Negril is the largest resort of the four and perfect for active couples.  Enjoy the world-famous Seven Mile Beach, the island's largest fitness complex, a lap pool and air-conditioned squash and racquetball courts. For nude beach alternatives, please visit the 3 other Couples Resorts.
Desire Resorts in Cancun, Mexico
If you are looking for a unique clothing optional erotic experience where you can enjoy moments of sensuality, liberal fun in the tropics, socializing with other like-minded couples and pleasure with no boundaries, the Desire experience is for you!  From two beautiful clothing optional resorts to choose from, Riviera Maya Resort and Riviera Maya Pearl Resort, the Desire experience includes intimate and secluded spaces to meet new couples and partake in the game of seduction.
Adult entertainment
Seductive theme nights
Couples' workshops
Indoor/Outdoor playrooms
Clothing optional
Couples only
Erotic night club
Discrete, erotic, and sociable
Much, much more…
KEN:  These links correspond with the Desire Resorts.
Desire Riviera Maya Resort:
<a href="https://www.originalaffiliates.com/resources/links/2459/5/en/" title="Desire Riviera Maya Resort">Click Here!</a>
Desire Riviera Maya Pearl Resort:
<a href="https://www.originalaffiliates.com/resources/links/2459/6/en/" title="Desire Riviera Maya Pearl Resort">Click Here!</a>
Temptations
Full Take-Overs
Open minded couples who are looking to further explore their sexuality and travel to some of the sexiest cities around, should consider attending full takeover events.  From multi-day lifestyle conventions, to complete lifestyle cruise takeovers, there is something for just about anyone exploring the lifestyle.  These events attract many couples exploring non-traditional ways of traveling who are lifestyle couples, nudist, voyeurs, and exhibitionists.  The best vacations are those that you can share with other like-minded people from around the world.
Naughty n Nawlins in New Orleans, LA
Naughty n N'awlins is the largest annual lifestyle convention for couples, in the world. With over 1,000 couples, this event takes over of one of the French Quarter's biggest hotels and Bourbon St.  Open-minded couples will have the opportunity to attend a wide variety of seminars and Bourbon St. parties by day and themed Balls by night.  By attending some of the classes, couples will create long lasting memories that will make you a better lover, partner, and individual.  These memories will come equipped with new skills and a boost in confidence that couples will continue to cherish and practice well beyond those moments.
Naughty Beach in Huatulco, Mexico
Are you ready to escape to a beautiful nude beach unspoiled by tourists with like-minded individuals?  Enjoy serene sunsets, entertainment, parties, music and sexy playrooms for couples who wish to satisfy their desires at Naughty Beach in Mexico.
More Info…
Lifestyle Cruises
Couples who are ready to enjoy a sensual intimacy in adult-only luxurious cruises where you can explore sexuality without limits should book their next vacation immediately!  Enjoy everything you will find on a regular cruise in addition to workshops, seminars, clothing optional decks, parties, playrooms, and more.
More Info…
Infiniti April 2019 Charter:
https://registration.blisscruise.com/Book/Reservation/Start?tripId=2999&travelAgentId=58957
Navigator November 2019 Charter:
https://registration.blisscruise.com/Book/Reservation/Start?tripId=3005&travelAgentId=58957
Infinity April 2020 Charter:
https://registration.blisscruise.com/Book/Reservation/Start?tripId=3009&travelAgentId=58957
Mariner November 2020 Charter:
https://registration.blisscruise.com/Book/Reservation/Start?tripId=3014&travelAgentId=58957
Desire Cruises
Mediterranean Cruise September 2019: https://www.desire-experience.com/cruises/mediterranean-cruise/?affiliate=2459
<a href="https://www.originalaffiliates.com/resources/links/2459/11/en/" title="Desire Mediterranean Cruise 2019">Click Here!</a>
Red Carpet Cruise May 2020:  https://www.desire-experience.com/cruises/red-carpet-cruise-may-2020/?affiliate=2459
<a href="https://www.originalaffiliates.com/resources/links/2459/21/en/" title="Desire Red Carpet Cruise">Click Here!</a>
Greek Islands Cruise September 2020:  https://www.desire-experience.com/cruises/mediterranean-cruise/?affiliate=2459
<a href="https://www.originalaffiliates.com/resources/links/2459/18/en/" title="Desire Greek Islands Cruise">Click Here!</a>
Temptations Cruise
Temptations Caribbean Cruise February 2020:  https://www.temptation-experience.com/cruises/temptation-caribbean-cruise-february-2020/?affiliate=2459
<a href="https://www.originalaffiliates.com/resources/links/2459/15/en/" title="Temptation Caribbean Cruise 2020">Click Here!</a>
Couples looking for a topless-optional experience will have fun in a high energy floating playground for grownups.  Expect…
Signature theme nights
Sensational Sexy Pool
Topless-Optional Experiences
Trendy Tropical Destinations